Pads, Rolls, and Refills
| | |
| --- | --- |
| Glass Media | G2-G3 |
| Synthetic Media Pads | G2-G4 |
| Deckhead Synthetic Media | F5 |
| Fire Rating to DIN 53438 PT3 | Synthetic F1 |
| Maximum Working Temperature | 200°C |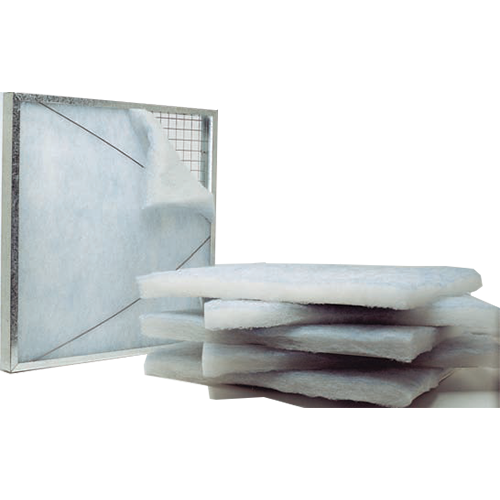 Application
Glass and Synthetic filter media for HVAC systems and spray booth deckhead and exhaust applications. This media is available in bulk rolls or pads for use in re-loadable frames or cut to specific customer requirements. Also available as roll filter refills.
Construction
Glass Media - The media is manufactured from continuous monofilament glass-fibre bonded with thermosetting resin.The pattern of the fibres is designed to give the lowest resistance to air whilst offering the highest dust holding capacity.
Synthetic Media - Consists of 100% Polyester fibres, which are thermally bonded for optimum filtration efficiency and to avoid fibre shedding.
Range
Available in a wide range of media types and thickness and can be supplied as pads or refills to fit all makes of Roll-Filters.